Dear all of you,
Firstly, we would like to say a huge thank you for all of your support and understanding during, what has been, a week like no other! Despite your own worries and concerns during this time, we have together managed to provide an enjoyable and productive week for all the children who attended. For those of you who have not been with us at school we send our best wishes and thank you for following the government guidelines so conscientiously.
Last Week
Mother's Day cards
The children set about making their mother's day cards based on still life daffodils, this led to lovely conversations around why their Mums are special to them and what they enjoy doing with their Mums. Some children just wanted to paint, some wanted to draw, some keen to add more media to change effect. One child decided his Mum would like red flowers not yellow, this led on to a discussion about different types of flowers and how flowers grow.
What flowers can your child spot from the window or what flowers have you got growing in the garden? Perhaps you could do some planting of your own in the next few weeks!
Snakes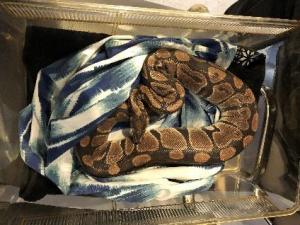 Quite a large group of children have become very interested in snakes. We described features and facts we knew about snakes. We thought about what they felt like to touch and watched a video about snakes shedding their skin. We learnt this happens every six months as they grow, or more often if they are injured. The photo is of a royal python that Zoe saw when she went to the vets a few weeks ago, his name is Monty and his owner said he was paler than normal as he is just about to shed his skin. We wonder what other facts you can find out about snakes! Perhaps you can share some with us or draw us a snake!
Block play
Rupert and Dylan spent a long time building a 'racing car' using the wooden blocks, they worked cooperatively together to problem solve and achieve what they intended to do. Both of you were engaged and motivated in your play. Super creation Dylan and Rupert.
Remember to send us some photos of any of your creations and we can share them with everyone.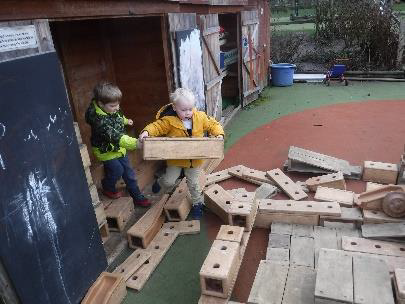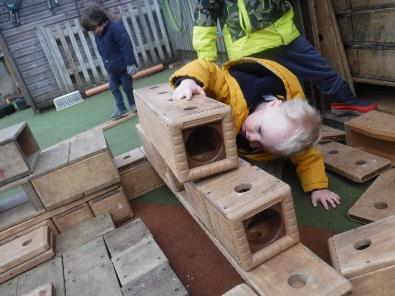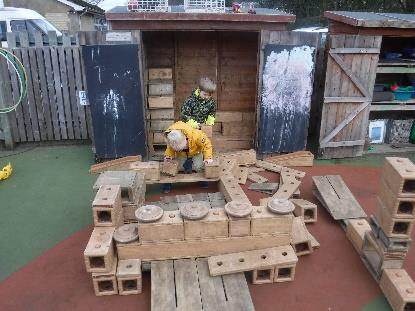 A Forest-style farewell for the time-being
Friday was chosen to be a party day by many children and we finished off the sessions by eating ginger cake and dough balls which we had cooked in session around our camp fire. Minnie also shared some mini treats she had brought in. We sang songs and recited poems and talked about our Nursery Day. Children said they liked playing with their friends, playing in the home corner, on the bikes, painting, acting out their Helicopter Stories, and one child said home time was their favourite time!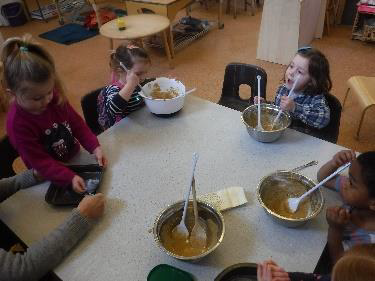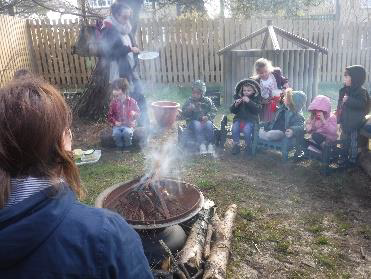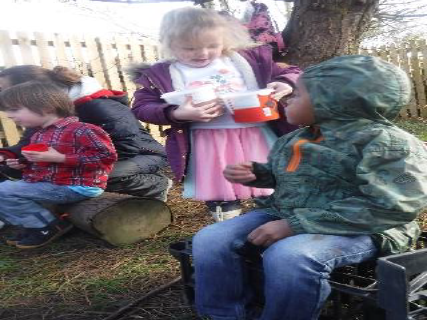 Going Forwards
This last comment turned out to be sadly appropriate as the majority of you will be staying at home from Monday 23rd March onwards, due to the Coronavirus Pandemic. For how long, we do not know. However, we are aiming to work with you through circulating one or two newsletters per week, in which we will share as many creative ideas as we can, not as a tick list but for you to choose your favourites. We will come up with our own ideas which are specific to the children we have come to know and enjoy teaching so much this year. But we would also like you to share any great experiences and activities which you discover, please email us to keep in touch and we will send out links and any of your news, photos you would like to share with us all. Together we can keep our school community in touch, and will support you in any way we can. Don't forget we are still here throughout the coming weeks and you can phone or email and talk to us about any concerns you may have about your child, as usual, no matter how big or how small.
Best Wishes
The Nursery School Team