Term 3 January 2021 
ACE Centre Nursery School 
Home Learning Newsletter 
 We are going to keep in touch with all our families who are choosing to stay at home during this new year lockdown period so that you and your children both feel connected with news from school, and also have a weekly plan of stories to listen to, on-line links to keep you busy, ideas from our nursery school week to have a go at and selected poetry basket poems to learn. 
As from this week, we will be sending out weekly Home Learning for families. This will replace our usual newsletter and will be sent out each Friday ready for the following week. The home learning newsletter will be sent to all families even if children are attending nursery school. 
Our Home Learning programme for Lockdown 3 will differ slightly from previous home learning as we are still in nursery. We aim to provide families with some helpful ideas and activities to support their children's learning during this time, as well as linking with some of the activities that we are doing in nursery. 
 Each Home Learning Newsletter will give families: 
1. Story videos recorded by staff – following feedback from previous home learning, the stories have been very popular with families and are a good way of helping children feel connected to the nursery staff that they would usually be spending a lot of their time with. 
2. Links to Learning – these will be links to resources, websites and apps that we have chosen for their suitability, educational quality and accessibility. 
3. 'Have a go' activities – these will be activities that we are doing at Nursery that you might like to try at home. 
Five things to remember: 
1. Parents are not expected to be 'teachers' or to provide the range of activities and experiences children get at nursery! Children are learning all the time through their everyday activities – you can help your children learn further by involving them in daily household tasks and having conversations with them about what they are doing or have done. 
2. You can use our Home Learning programme to choose two or three activities a day – there is no need to fill every minute as children will need time to relax and parents will need time to fit in their own work or household jobs too! 
3. To help your child cope with the changes in their lives at this time, they will find that some routine within their day is a comfort. Schedule times to share an activity with your child and also time when they are doing something independently -this can include some screentime or an activity that they enjoy such as building with lego or drawing. Grandparents or family members may be able to help support children with this using zoom or facetime! 
4. Keep it simple -sharing books, playing a game and having conversations are some of the best ways of helping your child learn. 
5. If you have any questions or worries about home learning however small, please do not hesitate to contact the nursery team – we are here to help and support you. 
NO NEED TO FORCE ANY OF THIS – IF IT ID NOT WORKING , DO SOMETHING ELSE. 
Story Videos 
We hope you enjoy this week's stories read by Sharon and Lana. We also have a story that Morag kindly recorded for us before she left Nursery before Christmas! 
My Mum and Dad make me laugh read by Sharon, is a fun story about a Mum and Dad who love spots and stripes. Maybe you could draw a picture of your family and design spotty or stripey clothes for them to wear! 
Listen, Listen read by Lana is all about listening to the sounds of the countryside through the seasons. 
In this video, Morag is in her garden looking for changes and then comes inside to share the story of It was a cold dark night 
BBC Number Blocks is a really good way of helping children practise their early number skills and there are also activity ideas here to go with the programmes as well as Number Blocks games to play online. You could watch one programme each day as part of your Home Learning with a short activity to follow up the programme. Remember, the programmes get progressively more difficult so find the Series that is right for your child as a starting point and go from there – you can always go back to programmes to remind your child and reinforce what your child has been learning

 

Hungry Little Minds is a website that offers activity ideas for children aged 0-5 years old. They also provide links to age appropriate apps that have been carefully selected for pre school children.

 

Click here for the link to Government guidance on 'Helping children aged 2 to 4 learn at home during lockdown'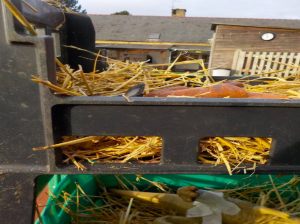 Can you see what is in this photo? What do you think it is? Have a careful look! 
That's right – it's a dinosaur's back and a dinosaur's foot. We made a dinosaur veterinary hospital. Can you make a hospital for your animals? We used sticky tape for bandages and straw for beds. I wonder what treatments your animals and toys will need? I hope they all get better soon. 
With our best wishes 
Love from 
The ACE Centre Nursery School Team