Week beginning 10.02.19
Dear all,
Well we can't quite believe that's another term done and dusted. We are now officially half way through the school year. Each week we are seeing the children becoming more and more independent, confident and resilient in their play which is a great success at this stage in the year.
Last week
We had a good week despite the unpredictable weather, the cold wind certainly created lots of opportunity for discussion. We also linked the weather easily to our poem 'Breezy Weather'.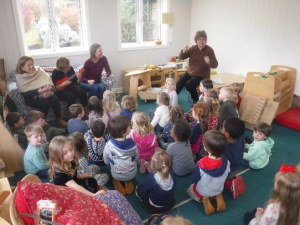 On Thursday, Fran's Grandmother shared her ukulele skills in a sing-along concert, in both Spanish and English. Thank you to both Fran's relatives and Elfreda's mum for this lovely experience for the children. We recognised another spoken language and joined in learning a little Spanish. We are lucky to have many children who have English as an additional language and welcome and appreciate any parents, friends and relations who can share stories, songs, recipes and traditions from their home culture and language with us. If this is something you are interested in doing please do come and speak to one of us or send us an email.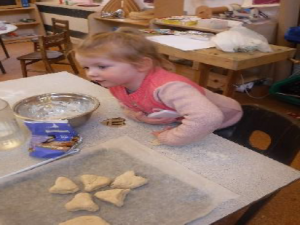 On Friday it was Valentine's day or – as the children renamed it – 'love day'. We decided to make heart bread rolls. This gave us the opportunity to discuss the word love and what it means to us. At the end of each session we enjoyed sharing the bread together. Some children dipped their bread in honey this led on to a conversation about where honey comes from and how it is made. If you fancy having a go at making bread at home here is an online recipe for bread or you can buy packets of white / brown bread mix and follow the instructions before moulding into shapes. Before cooking the bread we had to leave the bread to prove we did this by placing a damp towel over the rolls. Before baking the children saw the bread and recognised it had got bigger.
The other recipe attached is for the honey flapjack that some of the children made with Morag the week before last. Honey flapjacks.
Forest Friday
We would like some volunteers to help with our Forest Friday experience, especially as we will be introducing woodwork after half term. We will send out the risk assessments and links to the wonderful involved learning that woodwork inspires during the first week back. We feel the more adults the richer the experiences we can offer for all the children. We shall also introduce ropes and knot skills. We will put a sign up sheet up at the beginning of next term on the Forest School display board. Please have a look to see if any dates are suitable for you, if you can spare some time.
Links to learning
This is a link that has been put together by HM Government and is called 'Hungry Little Minds', it has some simple, fun activities for children aged 0-5 .
Next term we are going to start looking at the number block songs and really focus on each number thinking about the facts of each number. So, the "oneness of one" and the "twoness of two". This is otherwise known as cardinality and children demonstrate an understanding of this when they can count out and give you the correct number of any item, or when they can show a number in more than one way. Understanding what each number represents as quantity and as a total distinct from other numbers. We will be having a Maths focused parent workshop this term and we will let you know the date in our next newsletter.
Click for the number block songs.
Reminders
Term starts back on Monday the 24th
Missing Wellies – Two children are still missing their named wellies, if your child has accidentally worn any wellies home or borrowed them, thinking they were Nursery School's, we would be very grateful for their return. The two pairs missing are both new and are from mountain warehouse, one pair is green and the other pair is yellow. Thank you for your cooperation.
We hope you all have a great half term and look forward to seeing you all next term.
Best Wishes
The Nursery School Team