Highlights of the week
We've had a lovely week.  Everyone has been in the "learning zone", regardless of what each of us has been busy learning – we've all been doing it!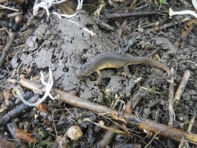 Our Brookes University students Zoe and Sarah have had great moments with the children- making silly soup in the mud kitchen with Zoe; finding a female smooth common newt with Sarah in the wild garden (see photo). 
Harmonious building indoors took off after reorganising the block area; and, an outdoor zigzag ball run through the lavender and potentilla took up an afternoon with fascination and deep engagement, working together to send the balls skittering downhill, this way and that.  We harnessed movement and sound into a great retelling of The Three Little Pigs with spontaneous percussion orchestra accompaniment – loud, soft, slow, fast, slinking like a wolf out of the trees. We enjoyed a game of hide and seek and brought the outdoors indoors to make moss nature collages with Marlena.
But overall the children are finishing this term working together and being kind.  Our relentless support to understand what a person is feeling, articulate what it is they want, set clear boundaries which are gentle but firm and persistent and the genuine delight and praise we all feel and express when your children solve problems and know "they can"; and then, start promoting their own positive behaviours together. It has been a really great week.
Last week's group time activities were focused around:
Transient art and photography – a large scale artwork was ongoing through the week, changing and rearranging as all placed autumn leaves, conkers, sticks, coloured wool, apples, seed heads and more on to a large brown background as an exploration of autumn.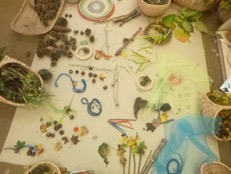 We talked all about the changes in the seasons and weather, also exploring Autumn words, "pulling them out of our mouths" slowly so that we could segment each word into sounds (phonemes) and begin to identify initial, medial and end sounds in each word. Have a go at home –  /l /   /ea/     /f/
Phonics
This week we have been distinguishing the difference in our vocal sounds by exploring speech sounds and experimenting with all the different sounds we can make with our voices.  This leads on to hearing the sounds in words which we will continue with next week (and the rest of the year!)
Good things to repeat / do at home to support last week's phonics could be:
Mouth movements – blowing, sucking, tongue stretching and wiggling to support articulation.
Make a trumpet by rolling up a piece of paper into a cone and experiment with making different noises – up and down wail of a siren, the honk of a foghorn, a peep, peep, peep of a bird.
Read stories with sound effects and enjoy making them together! This is a favourite 'The Hairy Scary Castle' https://www.youtube.com/watch?v=rhywnO37i8Y
We want to share "Wow" moments that take place at home as well as at school, so children are always welcome to bring a photo to tell us about, a picture they've drawn or some news that they have.
We will be holding a Forest school meeting on Friday 8th November at the beginning of the morning (8.50) and afternoon session (12.30), so you are able to drop your child off in the classroom and them come down to the rainbow room to discuss how your child will be experiencing Forest School this year. If you cannot attend, please let us know and we will do our best to schedule another time to speak to you.
This coming week
We will be celebrating Diwali, making shadow puppets, Rangoli patterns and Diva lamps.
We also will be making vegetable soup – so please if you can bring in a vegetable to help contribute.
We will also be experimenting with making hedgehog bread rolls.
We would really appreciate donations of rice for Rangoli patterns
Here is a link to the Diwali story for you to enjoy together at home.
https://www.bbc.co.uk/cbeebies/stories/lets-celebrate-diwaliperformance
Our PGCE student teachers Zoe and Sarah start their block placement with us and will be here four weeks into next term as well.
This term ends on Friday 25th October and next term begins on Tuesday 5th November.
The Nursery School Team